Big Boy Intercoolers


Cool Under Pressure
Move over kiddies - the Big Boys are here! Big, new, man-size plumbing so even the hardest working bloke (and his 4WD) can stay cool under pressure. At 48% cooler charge air temperatures than stock, you get up to 3 times more efficient cooling (results will vary between vehicles). That means better performance for towing, off-road and hillclimbs. A more efficient engine means better fuel economy and longer engine life..
---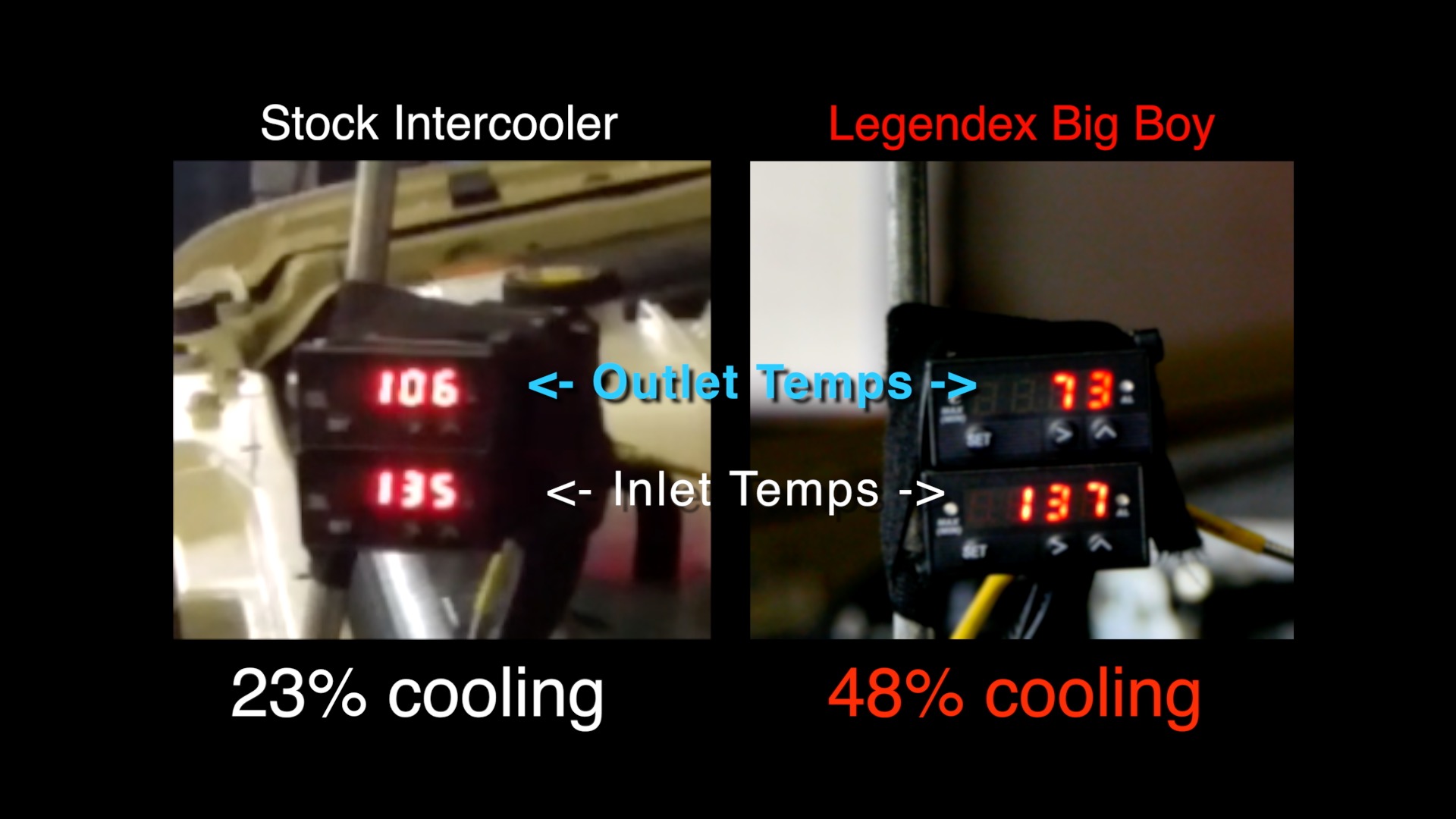 Sample results on a Landcruiser 79 Series 4.5L TD
Big Cool
Superior low-speed cooling… over two times more efficient cooling than stock. Huge improvement for towing uphill and off-road driving. Larger capacity, bigger, better plumbing and flow dynamics.
< 3 times more efficient cooling for the Hilux
< 2 timesmore efficient cooling on the V8 Landcruiser
< 2 timesmore efficient cooling on the 2.8L Colorado
---

Big Power
Combined with a Legendex Optimiser ECU Remap, we have been able to gain more power and torque due to the lower intake temperatures from the intercooler upgrade.
---

Big Tune-ability
Lower EGTs give tuners greater variables to work with than stock intercoolers. At last you can get performance tuning on DPF-equipped vehicles.
---
Big Economy
Fuel savings are a big bonus. Cooler charge air from the Big Boy intercooler produces more efficient power - and that translates directly to less fuel consumption - and longer engine life because the engine is not having to work as hard.
---
We Were Blown Away
After extensive research, development and testing we were blown away with the results of our new Big Boys. It's true big is not always better with an intercooler - going too big can result in lag issues if not well designed. That's where Legendex tech makes the difference Our dyno results prove it.
The Legendex Tech Difference
Flow dynamics - Our expertise with flow dynamics give us the big edge - in all aspects of the intercooler.
Customised design - Cores and tanks sized and shaped specifically to each engine. We don't use cast tanks which are typically one-size-fits-all but, also typically, are never the optimum size or design. Even worse, their thick walls retain heat which defeats the purpose of an intercooler.
Optimized plumbing - tubing path, size, length all designed for the best flow dynamics.
Superior cores - the best Australian-made cores - built and sized to our design by PWR.
Proprietary black thermal-coated cores - as used in formula one engines - assists heat dissipation.
Anti-leak -integrity - T-bolt steel band clamps, heavy-duty seven-ring silicon connectors and all-metal tanks & core (no plastic components) ensure airtight integrity.
Industry Leading 3 Year Warranty
Legendex Big Boy intercoolers carry a 3 Year standard warranty - that's 3 times what the rest of the aftermarket industry offer! Legendex is the name you can trust and our after-sales service is second to none.
Australian Made Premium Quality
Legendex Big Boy intercoolers are proudly designed and built in Australia. When you buy Legendex product you can trust it's a reliable, premium quality product.
Easy DIY Installation
Your Legendex Big Boy uses all the same stock intercooler mounts so no mods, cutting or welding are required. This is an easy DIY project you can do with basic tools. Each Big Boy comes with easy-to-follow instructions and all the plumbing, tubes and connectors required.